Largest Economic Incentive Deals of Q2 2017
by Kelley Rendziperis, on Jul 21, 2017 11:31:43 AM
Although the number of projects offered economic incentives increased 35% from the prior quarter from 430 to 581, the overall average award per job decreased from $30,175 to $15,373, and the value of the incentives offered decreased by 18%, from $1.2 billion to $1.02 billion for the second quarter of 2017. Interestingly, Q2 2016 was nearly identical to Q2 2017 in the number of deals and amount of incentives: 581 and $1.07 billion.
The largest incentive package reported during the second quarter of 2017 of $64.36 million is considerably less than the largest incentive package of $177 million offered in the first quarter of 2017 and $167 million offered in the second quarter of 2016.
The $64.3 million package was offered to Blue Origin to build a new facility to manufacture BE-4 rocket engines in Huntsville, Alabama. California had the most announced economic incentive projects during the quarter with 127 deals valued at approximately $119 million through the use of the California Competes Program.
The top 25 announced economic incentive packages amounted to approximately $542 million, or 52.7% of the total incentives offered in the quarter. Of the top 25 deals, six or 24% were located in New Jersey.
The largest project in terms of the number of jobs to be created during the second quarter is NTT DATA Services, which operates as an information technology services company. NTT Data plans to create 6,377 jobs and invest $28 million to establish its new North American headquarters in Plano, Texas. The company was awarded a $7.5 million grant through the Texas Enterprise Fund Program.
To help understand economic incentive trends, Site Selection Group has evaluated the economic incentive deals announced during the second quarter of 2017.
More than $1 .025 billion in economic incentives
As of the date of publication, Site Selection Group identified 581 economic incentive packages offered to companies across the United States during Q2 2017. These economic incentive packages represent an estimated total incentive value of more than $1.02 billion. To garner these economic incentives, companies are expected to spend more than $10.59 billion of capital and generate over 66,900 new jobs, resulting in:
a total return on investment of approximately 9.7%;
an average economic incentive award of $15,373 per new job;
an average incentive award of approximately $1.7 million per project; and
a median economic incentive award of approximately $330,000.
The 581 announced economic incentive packages represented 32 states, led by California with 127 deals, Pennsylvania with 88 and Kentucky with 48. The states which included projects with the largest amount of capital investment include Kentucky with $1.94 billion, Louisiana with $1.35 billion, California with $1.3 billion, Michigan with $872 million and Indiana with $658 million.
The top 10 states based on the total number of announced economic incentive packages, which represent 463 of the 581 projects, is shown in the table below:
Top 10 States for Number of Announced Economic Incentive Packages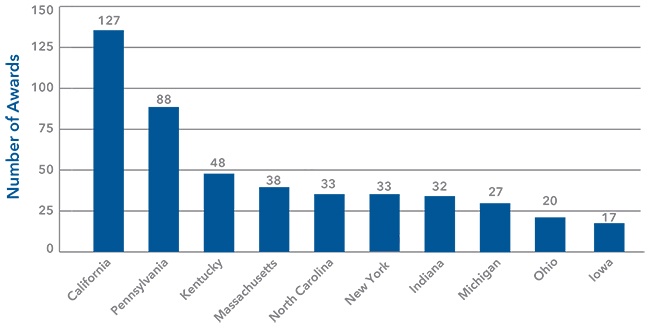 It is not surprising to see a number of announced economic incentive packages in California because the California Competes Program issued award announcements during the second quarter. With the exception of New York, these are the same states that accounted for the top 10 states in terms of number of announced economic incentives packages in the second quarter 2016.
While the average incentive package was valued at $1.77 million for all 581 announced projects, the average award for the top 25 deals was $21.69 million. The following chart depicts the 581 projects broken out by estimated incentive value:
Number of Projects by Incentive Value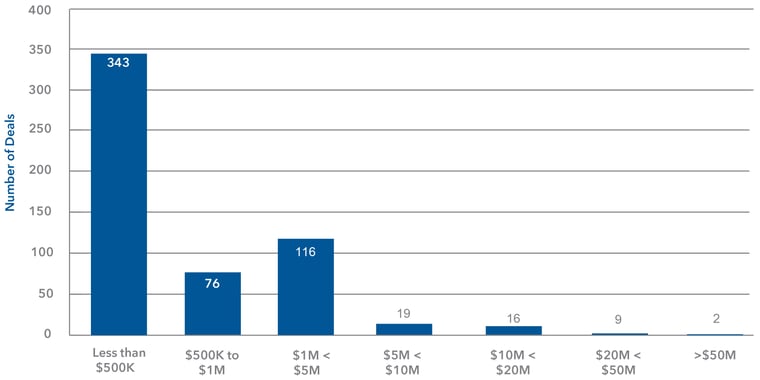 Approximately 72% or 419 of the 581 announced projects were awarded economic incentive packages of $1 million or less and 92% were awarded economic incentive packages valued at $5 million or less.
Top 25 economic incentive packages in the second quarter
The following table identifies some of the largest economic incentive deals offered in the second quarter of 2017. These projects provide a great way to benchmark what range of economic incentives exist for a variety of project types. However, it is important to understand the values are estimated and typically only reflective of state level incentives.
Company

Location

Incentive
Value ($M)

Capex ($M)

Jobs Created

Blue Origin

Huntsville, Alabama

64.36

200.00

342

Credit Suisse Group

Raleigh, North Carolina

53.90

70.50

1,200

Barclays

Hanover Township, New Jersey

40.00

19.41

900

Aetna

New York City, New York

33.60

84.00

250

Infosys

Indianapolis, Indiana

31.00

8.70

2,000

SPV-NA1 (NouriTech)

Memphis, Tennessee

26.58

120.00

66

Amazon

North Haven, Connecticut

25.00

255.00

1,800

E Mortgage Management

Camden, New Jersey

23.66

23.66

86

CHP Land

Camden, New Jersey

21.35

52.80

0

Project Magnify

Denver, Colorado

20.30

2.50

991

McCain Foods

Burley, Idaho

20.00

200.00

180

Bridge and Stocking

Grand Rapids, Michigan

19.50

55.62

130

Damascus Bakery

Newark, New Jersey

18.65

23.22

150

Allergan

Branchburg, New Jersey

14.87

24.10

50

American Packaging Corp.

Rochester, New York

14.70

170.00

260

Beecken Petty O'Keefe & Co.

Amarillo, Texas

13.00

0.00

375

Lockheed Martin

Unmapped, Colorado

12.70

0.00

550

Hill-Rom Holdings

Skaneateles Falls, New York

12.30

0.00

100

Cox Enterprises

New Hyde Park, New York

12.00

100.00

357

AXA

Charlotte, North Carolina

11.80

18.00

550

The TJX Companies

San Antonio, Texas

11.30

150.00

1,000

AeroFarms

Camden, New Jersey

11.15

34.35

56

Amazon

Herndon, Virginia

10.50

0.00

1,500

Twenty Mile Productions

Unmapped, Pennsylvania

10.05

0.00

462

Braidy Industries

South Shore, Kentucky

10.00

1,300.00

550
The top 25 economic incentive packages announced in the second quarter represent approximately $542.2 million of the total $1.02 billion of estimated incentives, over 52%. These projects in isolation will account for:
$2.9 billion of capital investment;
over 13,900 new jobs;
a return on investment of approximately 18.6%; and
$38,998 per new job.
For the top 25 projects listed above, the following graphs reflect the project type, number of projects by state and industry function:

Number of Projects by Industry Function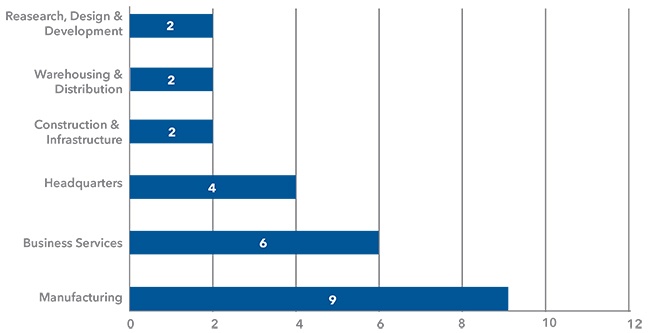 In this quarter, California Competes Program continued to be leveraged by companies and accounted for 127 of the 581 projects in terms of the number of incentives deals. The top two awarded projects were in Alabama and North Carolina, accounting for $118 million in economic incentives or approximately 21.8% of the top 25 deals and 11.5% of the overall incentives awarded in the second quarter of 2017.
As mentioned above, Blue Origin, which designs, develops and manufactures spaceflight systems, plans to build a new 400,000-square-foot production facility to manufacture its BE-4 rocket engine in Huntsville, Alabama. The company will create 342 new jobs paying an average annual wage of $75,000. The company has been offered a total of $64.36 million in incentives, including an incentive of $3 million from the Alabama Industrial Development Training (AIDT) Program, an investment credit worth $30 million over a 10-year period, a jobs credit worth $8.71 million over a 10-year period, a 20-year property tax abatement worth $647,745 and $10 million for the reimbursement of eligible capital costs. The city of Huntsville provided an incentive of $11 million to support the project. Blue Origin will also receive an incentive package of $1 million from a joint governmental group, composed of the city of Huntsville and the Madison County Commission.
The next largest economic incentive package was provided to Credit Suisse Group, which provides various financial services. The company plans to invest $70.5 million to expand its current campus in Raleigh, North Carolina, and create 1,200 new jobs. Credit Suisse has been awarded a $40.5 million grant over a 12-year period through the North Carolina Job Development Investment Grants (JDIG) program and a $13.4 million grant through the North Carolina Industrial Development Fund Utility Account program.
Please note that the analysis above is based on publicly available data at the time of this article. In addition, the current quarter's data is compared to the information available at the time of prior quarterly articles.
For additional information about these projects and others, please contact me at krendziperis@siteselectiongroup.com for any questions.