Largest Economic Incentive Deals of First Quarter 2017
by Kelley Rendziperis, on Apr 24, 2017 3:05:45 PM
Although the number of announced projects offered economic incentives in the first quarter of 2017 decreased 17% from the prior quarter, from 517 to 430, the overall average award per job increased from $23,844 to $30,175.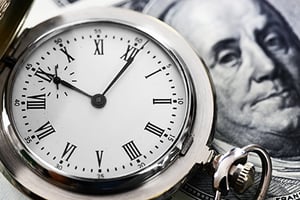 The largest incentive package of $177 million was offered to Related Companies to build a 62-story tower in New York City. Massachusetts had the most announced economic incentive projects during the quarter with 64 deals valued at approximately $20.95 million primarily through the use of the Economic Development Incentive Program and the Workforce Training Fund.
The top 25 announced economic incentive packages amounted to approximately $879 million, or 70%, of the total incentives offered in the quarter. Of the top 25 deals, seven or 28% were located in New Jersey. In this report, Site Selection Group has evaluated the economic incentive deals announced during the first quarter of 2017 to help understand economic incentive trends.
More than $1.25 billion in economic incentives
As of the date of publication, Site Selection Group identified 430 economic incentive packages offered to companies across the United States during the first quarter of 2017. These economic incentive packages represent an estimated total incentive value of more than $1.25 billion. To garner these economic incentives, companies are expected to spend more than $15.24 billion of capital and generate over 41,500 new jobs, resulting in:
a total return on investment of approximately 8.2%;
an average economic incentive award of $30,000 per new job;
an average incentive award of approximately $2.9 million per project;
a median economic incentive award of approximately $300,000; and
approximately $200,000 as the most frequently offered economic incentive package.
The 430 announced economic incentive packages represented 34 states, led by Massachusetts with 64 deals, Kentucky with 59, and Pennsylvania with 42. The states that had projects with the largest amount of capital investment include New York with $4.69 billion, Michigan with $2.5 billion, Kentucky with $2 billion, North Carolina with $1.3 billion, and California with $629 million.
The top 10 states with the greatest number of announced economic incentive packages, which represent 336 of the 430 projects, are:
Top 10 States for Number of Announced
Economic Incentive Packages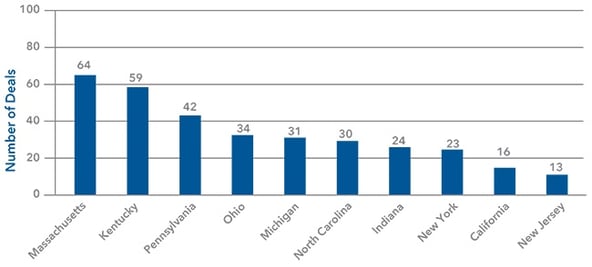 Note that the large number of economic incentive awards announced in Massachusetts is primarily due to the timing of when the Economic Development Incentive Program and the Workforce Training Program issue award announcements, which is generally during the first quarter.
While the average incentive package was valued at $2.9 million for all 430 announced projects, the average award for the top 25 deals was $35.1 million. The following chart depicts the 430 projects broken out by estimated incentive values:
Number of Projects by Incentive Value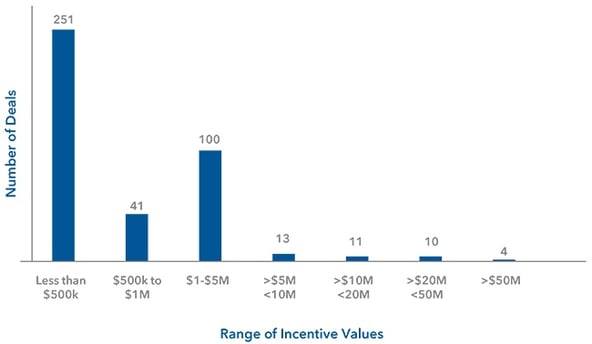 Approximately 68% or 292 of the 430 announced projects were awarded economic incentive packages less than $1 million and 91% were awarded economic incentive packages valued at $5 million or less.
Top 25 economic incentive packages in the first quarter
The following table identifies some of the largest economic incentive deals offered in the first quarter of 2017. These projects provide a great way to benchmark what range of economic incentives exists for a variety of project types. However, it is important to understand the values are estimated and typically only reflective of state-level incentives.
Company

Location

Incentive
Value ($M)
Capex
($M)

Jobs Created

Related Companies

New York City, NY

177

3,940.00

0

Conner Strong & Buckelew

Camden, NJ

86.24

86.24

111

The Michaels Organization

Camden, NJ

79.38

79.38

87

NFI

Camden, NJ

79.38

79.38

0

Creative Planning

Overland Park, KS

44.75

44

404

Amazon

Hebron, KY

40

1,494.00

600

Wakefern Food Corp.

Perth Amboy, NJ

39.27

116.11

390

NBTY

New York City, NY

35

142

157

Project Copper

Colorado

34.4

0

1,200

Saab Defense and Security

East Syracuse, NY

30

55

260

F&S Produce

Rosenhayn, NJ

28.1

0

60

City Modern 440

Detroit, MI

25.1

43.07

26

Paramount Pictures

California

22.39

128.8

300

Ford Motor Co.

Flat Rock, MI

20.4

1,000.00

700

Maestro Technologies

Trenton, NJ

17.36

1.66

143

Nestle

Arlington, VA

16

39.8

750

Bridgestone Firestone

Wilson, NC

14

344

16

United Tech. Digital Accelerator

Dumbo, NY

14

300

250

J&K Ingredients

Paterson, NJ

11.69

1.14

0

Universal City Studios

California

11.56

78.35

218

Spotify

New York City, NY

11

0

1,000

Open 4 Business Productions

Pennsylvania

10.7

0

135

The JM Smucker Co.

Longmont, CO

10.6

340

500

Ford Motor Co.

Multiple, MI

10.55

1,000.00

100

Sedgwick Claims Mgt. Services

Germantown, TN

10.4

34

130
The top 25 economic incentive packages announced in the first quarter represent approximately $879.2 million of the total $1.25 billion of estimated incentives, over 70%. These projects in isolation will account for:
$9.3 billion of capital investment;
over 7,500 new jobs;
a return on investment of approximately 9.4%; and
$116,600 per new job.
For the top 25 projects listed above, the following graphs reflect the project type, number of projects by state and industry function:

Number of Projects by Industry Function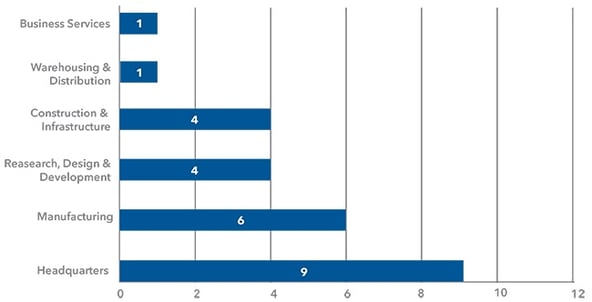 In this quarter, New Jersey's Grow New Jersey Assistance Program continued to be leveraged by companies and accounted for seven of the top 25 projects in terms of the number of incentives deals. The top two awarded projects were in New York and New Jersey, accounting for $263 million in economic incentives or approximately 29% of the top 25 deals and 21% of the overall incentives awarded in the first quarter of 2017.
As mentioned above, Related Companies, an American real estate firm, plans to invest $3.94 billion to build a 62-story tower at 50 Hudson Yards in New York City. The company is partnering with the Oxford Properties Group, a Canadian real estate investment and development company. The firm will spend $900 million for the project's land costs, $1.69 billion in construction costs and $1.35 billion for soft costs including design and architecture services. The project estimates the development will generate nearly 7,500 new construction jobs and house 7,500 office and retail workers once completed. The project was awarded $177 million in payments in lieu of city real property taxes, payments in lieu of city and state mortgage recording taxes, and city and state sales and use taxes through New York City Industrial Development Agency.
The next largest economic incentive package was provided to Conner Strong & Buckelew, an insurance brokerage and consulting company that provides insurance, risk management and employee benefit programs. It plans to invest $86.24 million to relocate and establish its new 110,000-square-foot headquarters in Camden, New Jersey. The company will create 111 new jobs and retain 157 employees. The project was awarded $86.24 million in tax credits over a 10-year period through the New Jersey Grow NJ program.
Please note that the analysis above is based on publically available data at the time of this article. In addition, the current quarter's data is compared to prior quarterly data compiled at a similar point in time.
For additional information about these project and others, please contact Site Selection Group.