To help understand economic incentive trends, Site Selection Group has evaluated the economic incentive deals announced during the first quarter of 2015.


More than $480 million in economic incentives
Site Selection Group identified 230 economic incentive packages offered to companies across the United

States during the first quarter of 2015. These economic incentive packages represent an estimated total incentives value in excess of $480 million, as compared to $450 million in the first quarter of 2014. To generate these economic incentives, companies are expected to spend more than $6 billion of capital and generate over 35,000 new jobs; representing a return on investment of approximately 8%, an award of $13,600 per new job, and an average deal value of approximately $2 million.

The following chart depicts the 230 deals broken out by incentives values: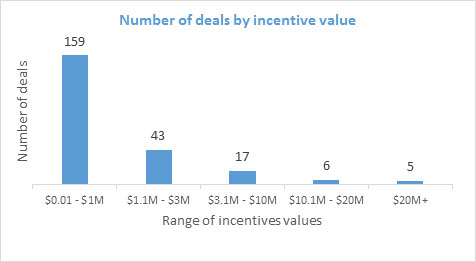 Top 25 economic incentive packages in the 1st quarter
The following table identifies some of the largest economic incentive deals offered in the first quarter of 2015. These projects provide a great way to benchmark what types of economic incentives exist for a variety of project types. However, it is important to understand the values are estimated and typically only reflective of state-level incentives.
Company

Incentive value




($M)

Capital Investment




($M)

Jobs Created

State

Nissan North America

53

160

1,000

TN

American Specialty Alloys

34

1200

1,450

LA

IBM

24.2

0

400

LA

Mercedes-Benz

23.3

74

800

GA

Sierra Nevada Corp.

23.2

88

2,100

CO

Volkswagen Group of America

17.7

3

100

FL

Citigroup

15

90

1,163

FL

Amazon

14.89

54

500

MA

Mercedes-Benz Vans

14

500

1,300

SC

Love's Travel Stops & Country Stores

13.66

0

516

OK

McKesson

12.94

65

164

IA

IKEA

9.5

64

175

TN

Johnson & Johnson Services

9.1

23.5

700

FL

Exact Sciences

9

26.3

758

WI

Littler Mendelson PC

8.9

0

275

MO

Procter & Gamble (P&G)

8.5

500

700

WV

Dorada Poultry

6.78

0

450

OK

Raytheon

5.8

0

250

IN

Audubon Field Solutions

4.72

0

93

OK

Bechtel Corp.

4.5

10

700

VA

Cummins

4.34

30

160

IN

Amsterdam Printing and Litho

4.15

6

40

NY

Northern Trust

4

95

1,000

AZ

Fuyao Glass America

4

130

750

OH

Crosscom National

3.84

0

230

OK

The top 25 deals represent approximately $330 million of the total $480 million of incentives, more than 68 percent, offered in the first quarter of 2015. These projects in isolation will account for more than $3 billion of capital and generate over 15,000 new jobs; representing a return on investment of approximately 10% and $21,000 per new job. For the top 25 projects listed above, the following graphs reflect the project type, incentive type and industry function: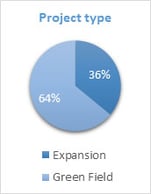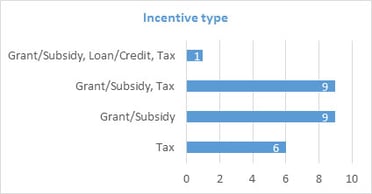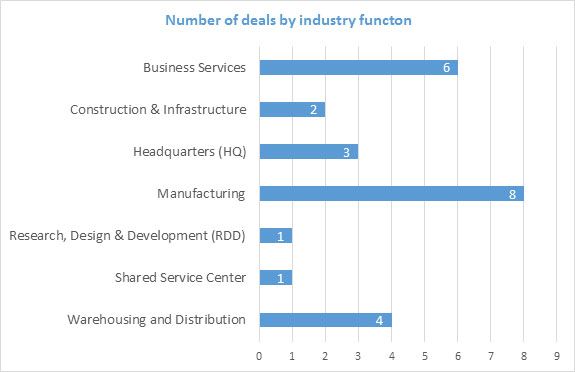 In this quarter, the top 25 projects in terms of incentives values are distributed evenly throughout the United States. Notably, while Texas has been highly scrutinized for granting large economic incentive packages, the Lone Star State was not represented in the 230 deals reported in the first quarter of 2015. There may be several reasons for this, including the fact that many incentives are granted locally in Texas, the transition from Gov. Rick Perry to Gov. Greg Abbott, the legislature being in session and/or the continued scrutiny of the state's primary funds: the Texas Enterprise Fund, Texas Emerging Technology Fund and Texas Enterprise Zone.


For additional information about these projects and others, please contact Site Selection Group.