Impact of Drug Use on the Site Selection Process
by Josh Bays, on Mar 28, 2017 11:08:01 AM
Throughout the site selection process, many workforce factors are considered and measured from a variety of data sources. One growing area of concern is legal marijuana use and opioid misuse when selecting communities in which to locate a new facility, particularly for manufacturing and warehouse operations where safety is paramount.
Site Selection Group, a full-service location advisory and economic incentivesfirm that helps manufacturers find the optimal locations for their plants, tracks drug use trends across the U.S. to help clients minimize their workforce risk.
The legalization of marijuana and the manufacturing workplace
Corporations often do not allow the use of marijuana even in states where it has been legalized for two main reasons: their own corporate HR policies that transcend state boundaries and workplace safety. In addition, applicants are typically made aware of drug policies and testing before they apply. Consequently, a portion of the available workforce opt out of these types of jobs because they know they will not pass a drug test or they prefer to find work that has more lenient policies.
Without a doubt, legal marijuana use will continue to be a complex issue for employers, especially as more attention is paid to it via medical studies and policy changes. The map below shows the legal status of marijuana use by state. The majority have legalized marijuana in some sort of capacity, but only a handful – displayed in green – have allowed recreational use.
The effect of opioid use on workforce availability
As seen in the graph below, the opioid consumption rate has increased rapidly in the United States beginning in the late 1990s. Opioid usage is becoming a more significant problem for both short- and long-term workforce availability in some regions. Many manufacturers in communities throughout the United States have an immediate need for more talent, but some are finding the candidate pool to be very shallow. While low unemployment rates are the primary driver, one increasingly cited reason is opioid usage. The concern for many employers is that this challenge to fill their immediate workforce pipeline may become a long-term issue. The addicted, unemployed population may not be gaining the career experience necessary to fill the more specialized skillsets that are required to work in modern manufacturing distribution operations.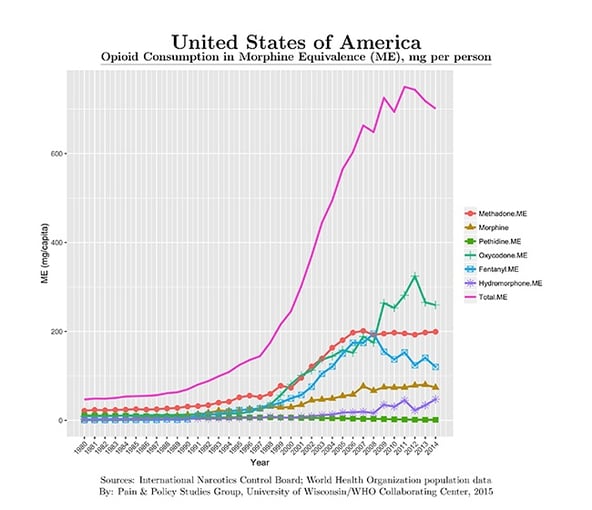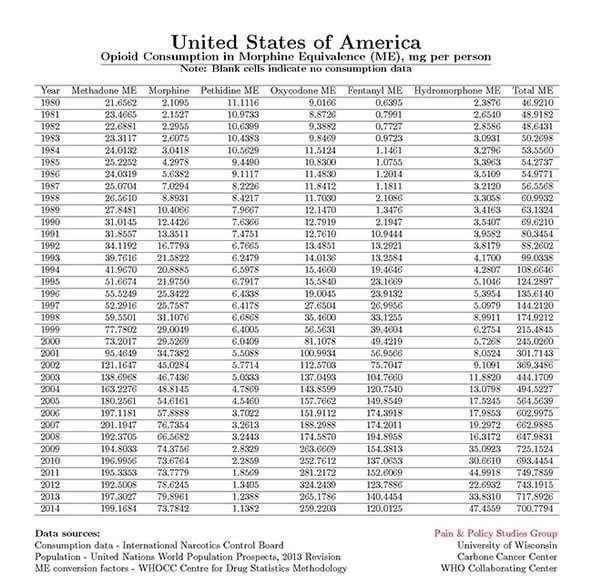 Image from: Pain & Policy Studies Group, University of Wisconsin-Madison
This problem spans across the country, affecting both rural and urban areas. According to the Substance Abuse and Mental Health Services Administration (SAMHSA), an estimated 4.7% of Americans have misused pain relievers in the course of a year. This statistic doesn't include heroin use, another type of opioid that is becoming more prevalent.
Use and Misuse of Pain Relievers in the Past Year
Among Population 18 and Older
| Region | Any Use | Misuse |
| --- | --- | --- |
| Northeast | 34.9% | 4.4% |
| Midwest | 37.1% | 4.4% |
| South | 39.3% | 4.7% |
| West | 38.4% | 5.4% |
| | | |
| County Type | Any Use | Misuse |
| Large Metro | 36.0% | 4.8% |
| Small Metro | 40.2% | 4.7% |
| Nonmetro | 39.9% | 4.6% |
When drug use becomes a part of the decision
In small and large communities, employers may require a closer analysis of the potential labor availability risks associated with legal marijuana use and opioid addiction rates. Although drug use has a direct effect on the available workforce in a community, quantitatively defining this risk is nuanced and complex. For this reason, evaluating a metro area in these terms is often done in later stages of site selection when more in depth analysis takes place. Site Selection Group utilizes third-party data sources as well as qualitative data from the community and their existing employers to gauge whether drug abuse is an issue. Interviewing current employers in a community is of the utmost importance in the selection process. Even if there are challenges regarding drug use, it's far more important to identify those issues and the steps being taken to address them during the process rather than concealing them and risk having a very dissatisfied new employer in the community.