How States Conform to the Federal Tax Law May Affect Incentive Deals
by Kelley Rendziperis, on Jun 18, 2018 2:40:52 PM
The Tax Cuts and Jobs Act (TCJA), H.R. 1, included sweeping federal tax reform and now state legislatures are grappling with how to conform. Most states calculate corporate taxable income by referencing the federal Internal Revenue Code. The differences in conformity are commonly known as rolling/moving date conformity or static/fixed-date conformity. Rolling conformity means a state automatically adopts federal tax law changes unless it decouples from specific legislation. Static conformity is adoption of the Internal Revenue Code (IRC) as of a certain date. Whether a state has rolling conformity, static conformity or decouples from the IRC will determine how federal tax law changes are treated from a state income tax perspective and could result in further state reconciliations.
The differences in federal and state corporate income tax treatment have a direct impact on how effectively state and local jurisdictions compete for business investments and economic incentives offered. This article highlights a couple of the more notable federal/state conformity issues that are frequently considered during the site selection process.
Section 118 contribution to capital
IRC Code Section 118 affects state economic incentives which, prior to TCJA, allowed a corporate taxpayer to exclude contributions to capital from gross income regardless of whether they were provided by a shareholder or a third party. In lieu of including the contribution as part of gross income, a corporate taxpayer would reduce its basis in the asset acquired by the amount received. This resulted in a deferment of tax liability, rather than a tax-free transaction, essentially to the time when the asset was sold.
The TCJA changed the treatment of capital contributions by only allowing the exclusion from gross income for contributions made by shareholders. Grants and reimbursements made after Dec. 22, 2017, by state and local governments will, therefore, be considered gross income and immediately taxable. This will significantly affect real estate construction because real estate developers frequently used this provision to receive tax increment financing on a tax-deferred basis. In addition, questions remain involving which incentives really are considered contributions to capital and what various exceptions under the new TCJA mean, such as the exclusion of contributions made after Dec. 22, 2017, if the contribution occurs pursuant to a master development plan approved prior to such date. States will likely not want to conform to the amended Section 118 because it will lessen the impact of economic incentives offered to companies or force them to offer more in consideration of the immediate tax offset.
Section 168(k) bonus depreciation
Bonus depreciation provisions have changed over the years and provide for increased depreciation deductions for assets placed in service at various points in time. TCJA significantly alters the depreciation deduction by providing for 100% bonus depreciation for assets purchased after Sept. 27, 2017. The provision also now applies to used assets if they were the taxpayer's first use of the property. Section 168(k) now allows for depreciation of certain assets as follows:
100% for any qualifying asset place in service after Sept. 27, 2017, and before Dec. 31, 2022
80% for any asset placed in service in 2023
60% for any asset placed in service in 2024
40% for any asset placed in service in 2025
20% for any asset placed in service in 2026
0% for any asset placed in service after 2026
The significance of the increased bonus depreciation is that many states already decouple from the current 50% bonus depreciation or have their own method of calculating depreciation. The illustration below shows the differences which might occur for a corporate taxpayer investing $20 million of capital under three different scenarios: a state which follows 100% bonus depreciation under TCJA, a state which allows 50% bonus depreciation and a state which does not allow any bonus depreciation.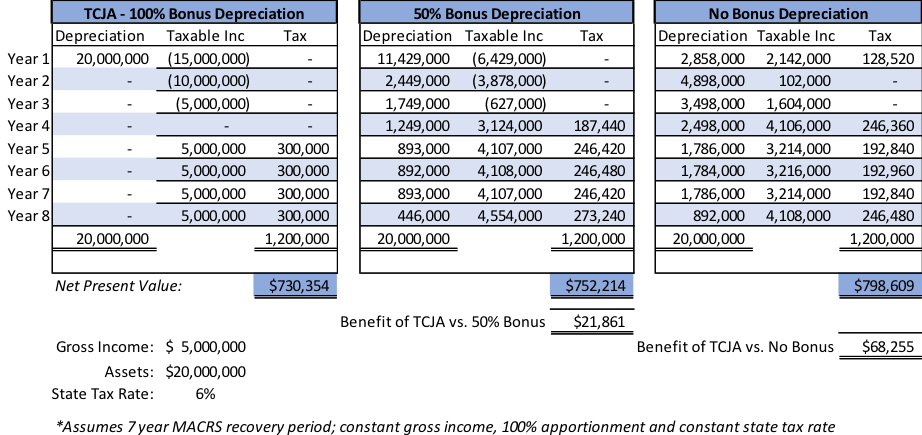 As reflected above, there could be a significant gap between a state that adopts the TCJA and one that does not, which could influence the overall cost comparison between two competing sites, especially when the capital investment is large.
The chart below shows how states conform to bonus depreciation under TCJA and Section 168(k) as of the date of this article: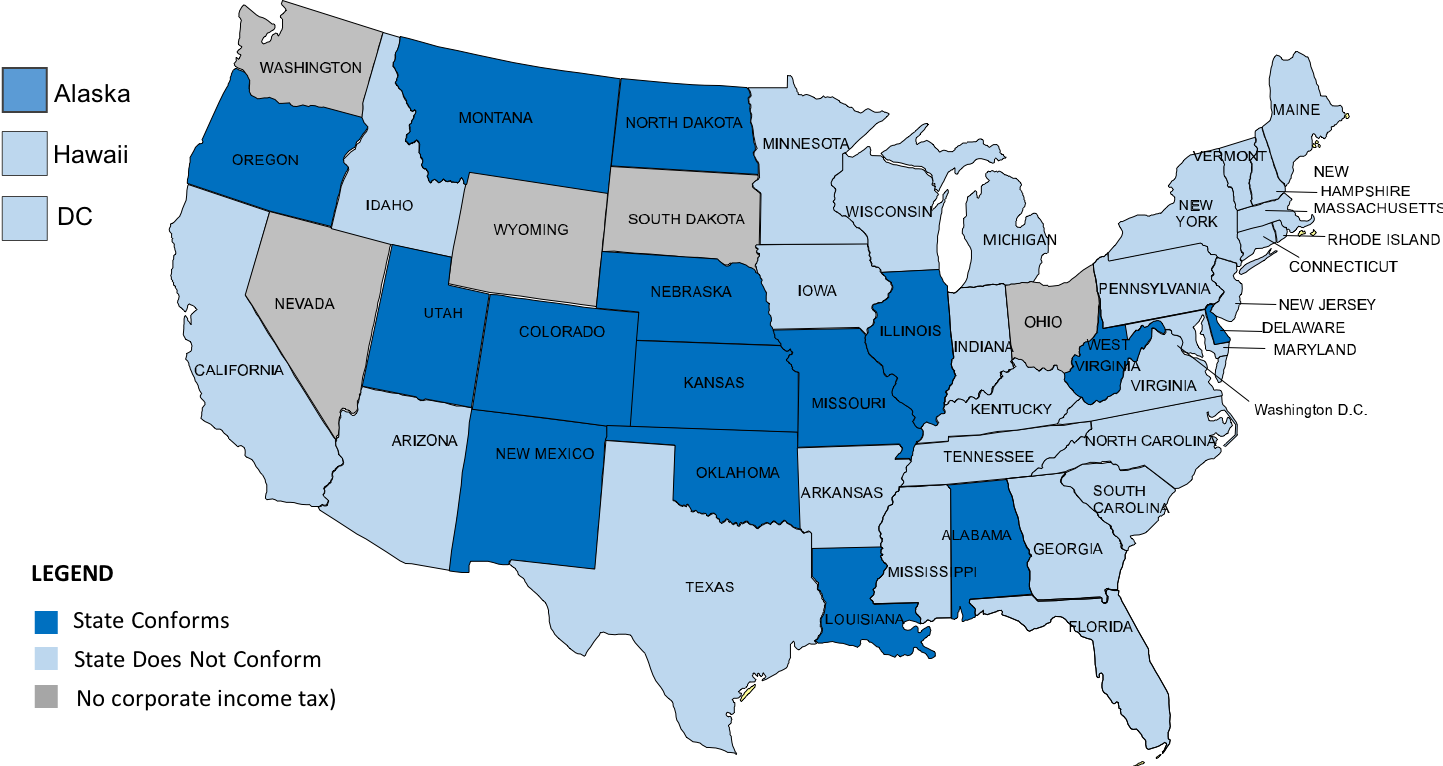 Source: RIA Checkpoint
State legislatures will continue to analyze how they will conform to various TCJA provisions, which should be monitored closely.
For additional information about these provisions or others, please contact me at krendziperis@siteselectiongroup.com.