As the data center world continues to evolve and expand, another important strategy for many cloud-based companies is moving certain data center operations to the "edge" of established networks. "Livin' on the Edge" is not only an Aerosmith song but a key component to a robust IT strategy.
As the Internet and cloud services penetrate every corner of the global economy,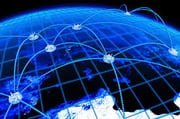 data must reach new populations, filling in the remaining open spaces in the data center map. This trend is being seen in secondary business markets across the country and in emerging markets around the world as more wired companies expand into the smallest towns.
Companies are addressing the problem of network latency, which slows down the Internet. This lag time translates into buffering Netflix videos, dropped ESPN updates and decelerating Internet website speeds for many content providers and is unacceptable to the data-hungry end customer.
For the actual data center location, there are no hard-and-fast numbers of people or businesses needing to access edge services to make it meet the delineation of an edge data center. Rather, it is proximity — and therefore, the reduction of backhaul, latency and potential network congestion the facility provides to its customers — which helps define an edge data center.
So many content companies such as retailers, banks, sports networks, app providers and streaming media firms are racing to meet the significant demand by reaching out to the far ends of the grid. The concept works like this: Instead of having a primarily raised-floor environment with robust power and fiber concentrated in one major market, the content provider installs multiple smaller sites in less populated metro markets.
"We are also seeing this strategy being implemented by other companies as a means to maintain speedy networks and content storage and as a diversification strategy," says Michael Rareshide, Executive Vice President of Site Selection Group, who negotiates and handles site selection across North America for mission critical and colocation projects for data center users.
Carrier class third-party colocation operators step up to meet demand
Trying to meet the appetite for such edge-centric content runs counter to the current geography of the data center business. Historically, the major hubs comprising the top 10 population centers in the U.S. — home to many customers, carrier hotels, data center farms and established business models — were the rule.
But companies are also realizing cost savings going to the edge. They have begun to realize that the cost of the long haul fiber routes from Chicago to Cleveland or from Dallas to El Paso can be expensive compared with deploying hardware into a closer colocation facility. This customer also benefits from the reduced cost per kilowatt hour provided in the tier 2 centers compared with the major market providers.
As an example, companies such as TierPoint, 365 Data Centers and EdgeConneX have as their primary business models a mission to penetrate markets such as Minneapolis, Nashville, Pittsburgh, Omaha, Nebraska, Richmond, Virginia, and Lehigh Valley, Pennsylvania. They avoid the "data center as a commodity" in the Top 10 data center markets while securing a loyal customer in a less competitive environment.
Telecom companies are also realizing the potential for edge services and are actively marketing their sites as they already have the in-place footprint. Windstream and Fairpoint are companies deploying their facilities for cloud demand so they can provide extremely fast speeds at a more local level. In addition to the content provider extending its reach to smaller markets, these telecoms already have the local relationship with the customer, such as the local government or the main hospital, and can offer better networks to assist these locals.
Staying power of the edge strategy
While this strategy should be considered in its infancy stage, is this sustainable or the "flavor of the month?" For the colocation provider, building enterprise-class facilities to handle the required densities needed to host cloud services, the outlook is very promising for at least the next 24 to 36 months as both data center operators and content providers play catchup. Major corporations acknowledge the importance of this strategy. Comcast is not only an investor in EdgeConneX, it also is a cloud customer in these facilities.
After building the state's largest commercial data center in Oklahoma City, TierPoint's recent acquisition of CoSentry, with nine centers in markets such as Omaha, Nebraska, Sioux Falls, South Dakota and Milwaukee should also provide another perspective.
And as these colocation operators install new facilities in smaller metro markets, they are enhancing and extending the edge. For either the "big data" corporation offering bandwidth-intensive consumer applications or the local business keeping some critical IT operations close to home, the edge provides a logical choice and an important solution.