Distribution Center Site Selection Trends for Q2 2018
by Josh Bays, on Aug 21, 2018 11:01:47 AM
Site Selection Group, a leading location advisory and economic incentives firm, researched site selection trends for distribution center and logistics projects announced in the second quarter of 2018. Announced distribution center projects varied widely in the number of jobs created and the amount of capital invested. At 240 employees, the average number of jobs created per project was up 160% from Q1. The median jobs created was 95. Capital investment per project announcement was more moderate, with an average of approximately $36 million and median of $10 million.
Comparing Q2 2018 with Q2 2017
In terms of job counts, Q2 2018 was more extreme than this time last year with more large projects (creating over 500 jobs) as well as more small projects (creating less than 25 jobs). The majority of projects in Q2 2017, by comparison, fell more into the mid-size range.
Distribution Project Announcements by Jobs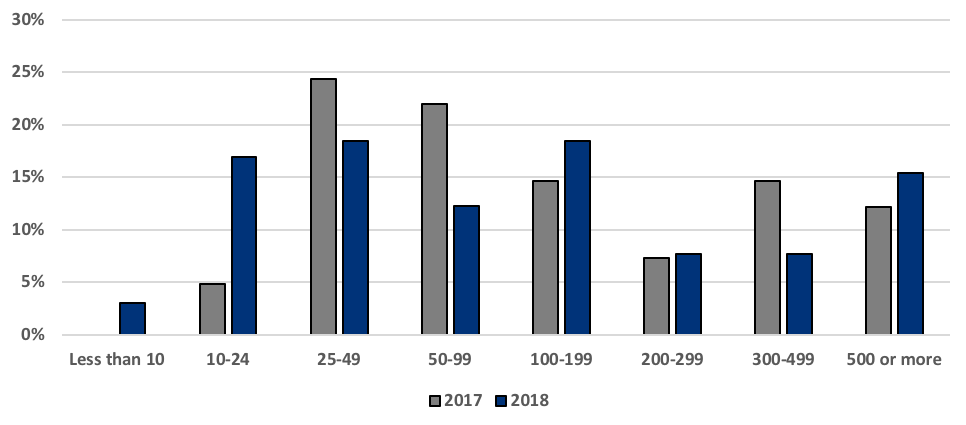 Whereas there were more announcements with large job creation in 2018 compared to 2017, capital investment tended to be on the lower end, with almost half of projects coming in at under $10 million. An exception to this was midsize investment projects, with almost a quarter of the projects reporting a total capital investment between $50 million and $100 million.
Distribution Project Announcements by Capital Investment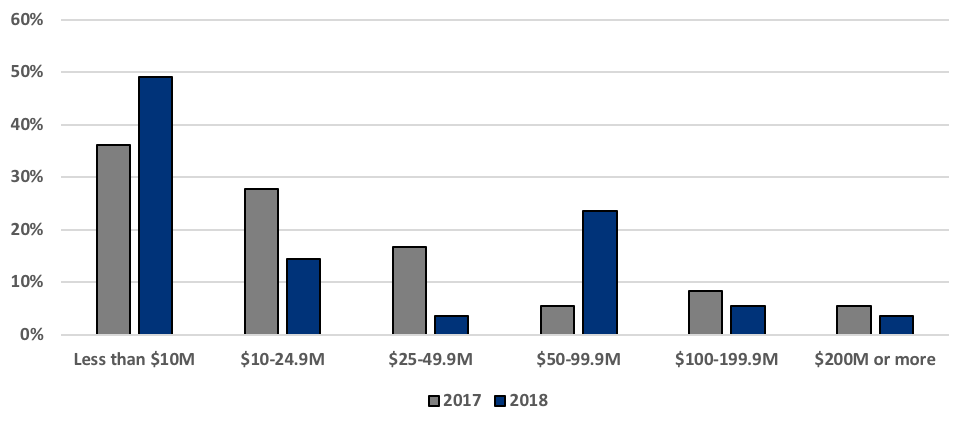 State trends for 2018
Ohio and Texas saw the highest amount of job creation and investment respectively for distribution centers in Q1 2018. The Southeast and Northeast U.S. also topped the list. There has been limited job creation and investment in the Midwest over the past three months in the distribution center sector. See the interactive map below for more information on job creation and capital investment geographic trends.
Q2 Distribution Center Announcements
Notable distribution center announcements
Site Selection Group identified the top three distribution announcements in terms of jobs and capital investment in the United States within the past three months:
Source: The expansion data used in this newsletter comes from the Conway Data New Plant Report, a publication of Conway Inc. and Site Selection Magazine. Project press releases were provided by source publications.