Data center site selection continues to be a significant challenge for every enterprise corporation as the industry continues to grow and costs increase. IT departments must consider not only new technologies, but also whether they should outsource to third-party data center colocation providers.

The paradigm shift toward outsourcing most or all IT infrastructure to a third-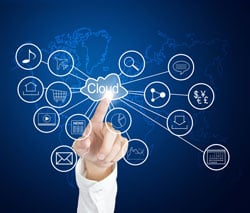 party data center operator — whether the need is for powered shell, wholesale colocation, a series of racks in a caged environment, data hosting or other mission critical solutions — has been underway for several years now and made it more challenging for companies trying to optimize their data center site selection decisions.
Data center industry growth projections are significant
Data center industry experts are projecting significant future growth as evidenced by the rate of new data center operations being announced globally. The following statistics highlight some the current and projected growth trends:
The hyperscale data center market is expected to achieve a more than 20% compounded annual growth rate from 2016 to 2022, and reach revenues of $71 billion by 2022, according to Allied Market Research, a consulting and research firm that tracks the data center industry.
The colocation data center market is expected to reach $36 billion worldwide by early 2018. Through year-to-date 2016, the colocation market has reached $23 billion in annualized revenue, according to 451 Research.
The global data center footprint will increase by over 40 million square feet of raised-floor environment by early 2018, from 109 million to more than 150 million square feet.
Roughly 25% of large North American and European corporations use public cloud platforms, including Amazon Web Services, Microsoft Azure, Google and IBM Softlayer. Other smaller players also provide public cloud solutions. Oracle announced in September that it was jumping headlong into cloud computing.
The total current public cloud market is approximately $20 billion annually. By 2020 it is projected to exceed $64 billion, according to Forrester Research.
Data center construction costs are substantial
The capital required for a data center is immense. From the shell construction, infrastructure, redundancy and equipment, a data center budget can quickly skyrocket. In the data center industry, construction costs are measured "per megawatt of power" needed to support the power draw for IT equipment and cooling of the data center.
"While several external and design factors may impact these numbers, data center colocation developers will generally spend from $7 million to over $9 million per megawatt of critical load power", says Michael Rareshide, Executive Vice President of Site Selection Group, a leading data center consultant who represents such colocation and data center users in their mission critical site selection including existing sites across North America.
"As an example, if the data center developer designs an 8 megawatt critical load, 50,000-square-foot, raised-floor data center, the budget could exceed $70 million and that does not include the customer's servers and racking."


Shift to third-party-operated sites occuring faster than projected
According to the Uptime Institute, the organization responsible for administering Tier I-IV data center certifications, almost 50% of senior enterprise IT executives expect to outsource the majority of their IT operations, whether to the public cloud or hosted with an outsourced colocation provider. More dramatically, almost 25% of this group is expected to have their IT outsourced by the end of 2017.
Some other observations from the Uptime Institute's Data Center Industry Survey include the following:
50% of respondents said they were satisfied or very satisfied with their primary colocation provider
40% noted that they paid more than what they initially expected.
Just 7% were dissatisfied.
Conclusions
The data center industry is clearly positioned for significant growth and the amount of investment required to launch an enterprise data center and co-location data center is expensive. As a result, a company's ability to make strategic site selection decisions for their data centers has become more challenging, and they may want to consider leveraging industry experts to help evaluate all of their options.