Dallas-Fort Worth has become a leading destination for enterprise data center and colocation companies as the region consistently ranks in the top five U.S. data center markets in the United States. The region has drawn major new development and expansions from every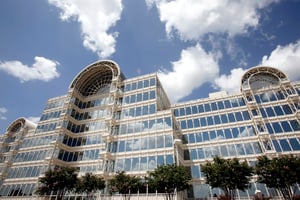 major data center developer and wholesale colocation operator as well as many of the newer data center operators. Data Center Frontier recently cited the Dallas-Fort Worth region as poised for a data center building boom with more than 200 megawatts of potential capacity in the pipeline.

Data center demand has come from very diversified sectors such as healthcare, financial services and insurance, all of which have a fast-growing presence in cloud and technology sectors. While other leading data center markets may have certain industry focused concentrations — such as the federal government and defense contractor data centers in the Ashburn/Northern Virginia data center corridor — the Dallas-Fort Worth data center market enjoys a very diverse ecosystem.

Data center demand forecast remains very optimistic in Dallas-Fort Worth
According to the Cisco Global Cloud Index, the forecast for data center traffic will exceed 25% compounded growth through 2019. The primary drivers to this growth are the continued trends toward cloud computing, migration of private data centers to third-party managed colocation facilities, customer demand for more content-driven capacity on their devices, and business demand for significant big data analytics. Dallas-Fort Worth is projected to be a major player in this growth.

DatacenterHawk, one of the leading research portals dedicated to the data center market, highlighted some of these trends:

Over the past 12 months, the Dallas Data Center Market has grown from 252 MW to 278 MW of commissioned power.
The Dallas area is home to 2.5 million square feet of commissioned data center space.
DFW absorbed a very robust ~ 40 MW of demand in 2015, nearly doubling its historic annual demand. Expect more of the same for 2016 and 2017.
Demand for space is fairly strong, as reflected in the vacancy rate of 12.2% in the region.
The 2016 statistics for Dallas-Fort Worth are expected to meet or exceed the 2015 demand mentioned above. The region will continue to outpace just about every other Tier 1 market over the next 24 to 36 months.

Dallas-Fort Worth has many factors in its favor
Dallas-Fort Worth remains highly ranked on every data center site selection consultant's list due to its distinct competitive advantages and favorable business climate to develop both enterprise data centers and colocation operations. Corporate IT executives and data center consultants repeatedly reference the following strengths:

Ease of available power and inexpensive power in the 5-to 55-cent kWh range
Very robust fiber connectivity in numerous submarkets
Available land sites at reasonable pricing for new development
Minimal disaster risk and very favorable disaster recovery capabilities
Competitive state and local economic incentives
Attractive wholesale colocation pricing in the $140-$155 kWh per month range
Far North Dallas is one of the most active data center submarkets
The data center market in Dallas-Fort Worth is comprised of approximately 10 separate data center submarkets. Each submarket has many of the competitive advantages mentioned above; however, recent trends over the past two years show a strong preference toward the Far North Dallas submarket. In particular, both the West Plano/Legacy submarket and the Richardson/East Plano/Allen Corridor submarket have multiple data center projects either under construction or in the final planning phase.

Who is operating data centers in Dallas-Fort Worth?
The following companies are the notable data center operators that have built a large presence throughout the Dallas-Fort Worth:


Digital Realty – multiple Dallas area campuses with over 1 million square foot and 100+ MW at its Richardson campus
CyrusOne – Two Dallas area campuses totaling 90+ MW design load
Equinix – multiple locations across the Dallas region
T5 Data Centers – initial West Plano 22 MW phase sold out; further expansion planned
QTS – first phase exceeds 400K SF data floor and design load of 140 MWs
Several new data center operators have entered or significantly expanded its presence in the market over the past two years including:

Skybox Data Centers – 25 MW in its first phase
RagingWire – 16 MW in its first phase with 80 MW design load
TierPoint- major expansion in the East Plano / Allen corridor
Aligned Data Centers – first phase 12 MW; designed for 30 MW
Stream Data Centers – new West Plano 25 MW site
Ascent Data Centers – new wholesale colocation provider with 10 MW design
Conclusions
Finding the optimal location for a data center is an extremely challenging process even when utilizing data center site selection consultants who do it for a living. One thing is for certain, the Dallas-Fort Worth region will continue to be a major player in the data center and colocation sector and will enjoy more than its share of this robust industry's future growth.