Clinton vs Trump: 7 Ways the Election Will Impact Corporate Site Selection Decisions
by King White, on Aug 24, 2016 4:35:54 PM
As the U.S. economy continues to suffer from lackluster growth, the upcoming presidential election will influence corporate site selection decisions for all types of operations including call centers, manufacturing plants, distribution centers, software engineering centers and retail networks. The political agendas of Hillary Clinton and Donald Trump will each influence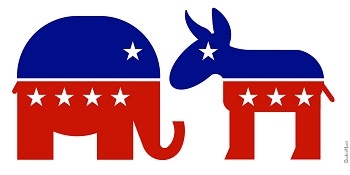 corporate site selection decisions in a different way. As a result, you may see many expansion decisions delayed before critical elections such as this. To help understand the impact, each candidate's position on key topics has been evaluated to identify seven ways our future president may impact corporate site selection decisions.

1. The minimum wage
Changes to minimum wage laws will likely have the most profound effect on site selection decisions. Clinton wants to increase the federal minimum wage to $12 per hour and wants local and state governments to push it up further to $15 per hour. A wage increase of this type might make the U.S. too expensive for product manufacturing or customer service fulfilment. This type of policy may push corporations to offshore to stay competitive. These wage increases could also negatively impact the profitability of many retailers who employ a significant amount of front-line low- wage earners. Conversely, Trump takes a more status quo free-market approach by letting states determine minimum wages that will enable low cost regions of the U.S. such as the Southeast and Southwest to continue to prosper from corporate expansions.

2. Foreign trade
Trump has taken a very protectionist stance on trade issues that could seriously impact imports and exports, especially in manufacturing. He wants to put a 45% tariff on Chinese imports and a 35% tariff on Mexican goods to discourage companies from expanding in these offshore locations, which have been hot beds for offshore manufacturing plants. This might cause companies to expand domestically; however, it may price their goods and services out of the market which ultimately impacts consumer expenditures and exports. Clinton has taken a more status quo approach to this issue which would have minimal impact on site selection decisions and likely keep our levels of growth moving forward.
3. Economic stimulus
Clinton is supporting the continued use of economic stimulus to help spur growth. This approach has been helping the economy maintain its slow pace of growth by keeping interest rates very low which gives companies access to cheap capital for investment in new manufacturing plants, distribution centers, call centers and other employee and capital intensive projects. Clinton's approach is likely the less risky in the short-term; however, long-term problems will likely arise from it and could negatively impact the economy. On the other side is Trump, who wants a market-driven approach to fixing the economy. This approach might let the economy start running on its own, but will definitely have a higher risk of more dramatic market fluctuations.
4. The military
Clinton appears to be positioned for minimal build-up in military forces and military-related investment, which will have no positive or negative impact since the stance is similar to President Obama for the last two terms. Trump, on the other hand, has a completely opposite approach, which revolves around a military build-up. By increasing military investment, the economy might see a boost by job creation in military-related manufacturing and R&D operations. Communities located near U.S. military bases may see growth in local bases.
5. Corporate taxes
Clinton wants to keep corporate tax rates and loopholes the way they currently are and push corporations to share profits and increase wages. Her approach differs greatly with Trump who wants to lower corporate tax rates to 15% from 35%. Trump believes his approach will make the U.S. more competitive, attract multinationals and create jobs. Moody's Analytics estimates the economy would growth 3.7% in 2017 under Trump versus 3% under Clinton. Either model will create growth which is positive news for economic developers seeking to attract new projects such as call centers, manufacturing plants, distribution centers, software development and retail stores.
6. Individual taxes
Consumers are impacted the greatest by individual tax increases and decreases. The more disposable income consumers have, the more goods and services are spent in the economy. The increased expenditures might increase the need for more call centers, distribution of goods at distribution centers and manufacturing of products in manufacturing plants. Clinton wants to tax the wealthy through a 4% addition on those earning more than $5 million and a 30% minimum tax on earners making more than $1 million. Going the opposite direction is Trump, who wants a 25% top tax bracket, down from the current 39.6%. No one knows which plan will work the best. One thing is for sure: Both want to change current tax rates.
7. Affordable Care Act and Social Security
Both the Affordable Care Act ("Obamacare") and Social Security seem to fall into a similar category. These programs impact the economy and consumers due to rising healthcare costs and the sustainability of Social Security for retirement. Clinton supports both programs and wants to continue to figure out how to make them successful in the future. Trump is fairly vague on Social Security and signals that his job growth plan will create more revenue to keep Social Security afloat. However, he has taken a clear stance that he wants to repeal Obamacare. Both programs create a lot of jobs to implement but cost employers a significant amount of money which could be spent on other corporate initiatives such as growth of operations.
Conclusions
There is one thing for sure, Americans need to be prepared for one of the most polarizing elections in recent history. The candidates are neck and neck in polls so this could go either way. As a result, companies need to develop site selection strategies that prepare them for either candidate if they want to optimize the location decisions for their call centers, manufacturing plants, distribution centers, software development operations and retail sites.