The evolution of cloud and the web impacts all aspects of our business life and personal life. The past few years have provided some indications about how quickly these influencers can change, and how important it is to be looking for the next developments in the data center and IT world.
Some industry experts in early 2015 suggested that the impact of the public cloud would have a debilitating effect on the overall colocation business model, as companies would be able to do "everything" in the Cloud thereby bypassing any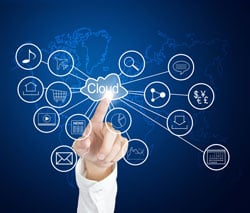 need for colocation services for its data center needs.
According to Synergy Research Group, 2015 is officially being referred to as "The Year of the Cloud," marking the first time cloud services and infrastructure officially became mainstream in the eyes of enterprise customers. SRG concluded that "cloud operator and vendor revenues reached a total of $110 billion during the four quarters ended Q3 2015, which marked a nearly 30% annual growth rate for all cloud service and infrastructure market segments measured. Public Infrastructure as a Service (IaaS) and Platform as a Service (PaaS) exhibited the highest growth rate at 51 percent, followed by private and hybrid cloud infrastructure services at 45 percent."
So it is to follow that in 2016 onward companies would continue the dramatic acceleration in digital transformation and cloud migration that have become key cornerstones not just at the IT management level but all the way up to the corporate boardroom. But what does this announcement mean for the enterprise data center user and as importantly to the third-party colocation companies who have built enormous infrastructures.
Impact to wholesale and retail colocation data center providers
Couple the impact of the public cloud with a data center colocation model that has changed very little over the past eight years with its inflexible and significant upfront power and space requirements wrapped in multi-year agreements. Perhaps these experts could be accurate on this dire prediction of a diminished future role. Simply put: Could colocation services be more flexible and cloud-like to better align with cloud consumption models?
"While 'hybrid' can be an overused word in the IT sector, we are seeing that the outsourced data center groups are and should remain a critical component of an enterprise's "hybrid IT" strategy. These outsourcers are addressing the critical infrastructure needed to remain viable," explains Michael Rareshide, Executive Vice President of Site Selection Group, who negotiates mission critical and colocation projects for data center users.
While cloud computing is helping shift IT spending away from some services – such as dedicated and shared hosting – it seems to be driving colocation spending growth. The reality is that IT organizations have grasped that public clouds are not suitable for every application, whether due to compliance, specialized hardware dependencies, or the need for direct physical control over the IT environment.
The new focal point of hybrid IT strategy
When workloads are placed in a colocation environment rather than a cloud environment, they can still gain some of the benefits associated with cloud computing. Colocation providers are also beginning to offer public cloud services and are actively seeking multiple cloud providers in their enterprise class data centers. Among other benefits, this provides a hybrid IT environment without the need to own or maintain private data centers. Companies can get some flexibility (as compared to the inflexibility suggested above) by deploying various initiatives to meet its hybrid IT strategy across multiple sites to meet its customer's preferences.
Colocation is a great alternative for overcoming these challenges and should be expected to be a critical cog of future IT strategies.