Call Centers Taking Advantage of Over 36 Million Square Feet of Vacant Retail Space Coming Available in 2017
by King White, on May 23, 2017 5:35:55 PM
As onshore call center expansion continues, the availability of quality call center facilities in desirable labor markets has become more scarce as vacated call center facilities have been picked over due to high demand. Companies once again are being pushed into spending more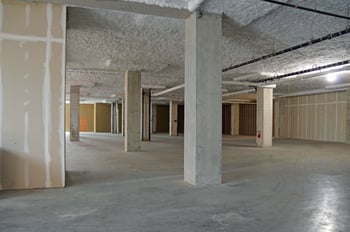 capital to convert non-traditional commercial real estate, such as former retail space, in order to expand into strategic labor markets with lower call center saturation and greater labor availability. Coincidentally, traditional bricks-and-mortar retailers are struggling as their same-store sales decline, which is causing mass retail closings across the United States. To help you take advantage of this opportunity during the call center site selection process, Site Selection Group will provide some helpful advice on how to identify, negotiate and build-out retail space for call center use.
Vacant big-box retail space to hit the market in 2017
It is estimated that 36 million square feet of retail space will come available this year due to store closures. Major big box retailers such as Sears, Macy's, JCPenney and Sport Authority plan massive store closures this year across the United States. The following diagram from a recent Wall Street Journal article provides a great summary of each retailer's closures: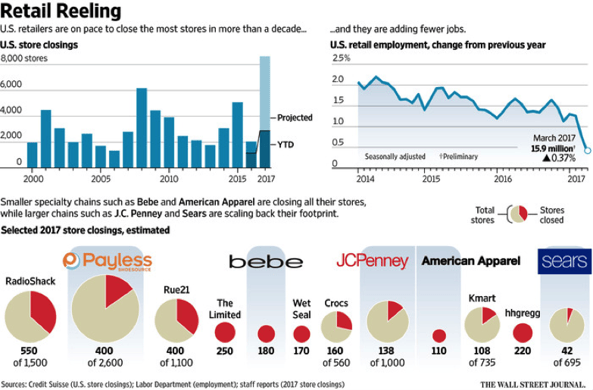 Carefully evaluate labor conditions around closing retail sites
It is important to not put the cart before the horse during the site selection process. I have seen companies lured to a location simply because of the available real estate — especially in the case of vacated call centers. It might be cheap to get into the site; however, taking over a site in a bad labor market can cost you far more than you ever realized.
In the United States, labor accounts for over 70% of a call center's operating costs while real estate is less than 10%. Therefore, you must find labor markets that have scalability to deal with high employee attrition, longevity to manage long-term labor supply and demand equilibrium, and low call center saturation to avoid your workforce getting cannibalized by your competitors. A detailed guide to finding the best call center labor markets is provided in the recent blog How to Find the Best Call Center Locations Using a Proven Site Selection Process.
All types of companies have found retail big boxes as great call center facilities
The conversion of retail facilities has been happening for over 20 years. These buildings have some great attributes that make them ideal for call centers. These attributes include parking ratios in excess of six spaces per 1,000 square feet, large floorplates, public transporation and nearby amenities such as restaurants for your workers to get a quick lunch. As a result, companies such as Amazon, Bed Bath & Beyond, Conduent, Convergys, JPMorgan Chase, TeleTech and Teleperformance have converted retail sites across the United States.
Former Walmart facilities were some of original sites that got converted. Site Selection Group helped convert a couple of Walmart buildings for Amazon in Kennewick, Washington; Teleperformance in Reno, Nevada;, and JPMorgan Chase in Melbourne, Florida Some other great examples of big box retail conversions are TeleTech in Greeley, Colorado; Sutherland Group in Oklahoma City, Conduent in Orlando, Florida; and Convergys in Chattanooga, Tennessee.
How much does it cost to convert retail space into
a call center?
Site Selection Group has extensive experience with call center construction and has completed over 100 call center real estate transactions in retail big boxes, malls and strip centers. This has helped to develop some great benchmarks on the costs to convert retail space. The classic misperception is that retail space is wide open so you should be able to just move in quickly and cheaply. However, the mechanical and electrical conditions of retail space are significantly inadequate for call center use. Retail space often has minimal electrical capacity. Call centers are relatively heavy power users that need electricity distributed to an average of one workstation per 100 square feet.
Similarly, the mechanical systems such as HVAC are not adequate for a call center. Retail use is far less dense than a call center user. The typical retail big box facility has an HVAC load of 1 ton per 400 square feet while a call center requires one ton per 265 square feet.
You will find the mechanical, electrical, plumbing, generator and furniture are probably your most expensive line items in the retail conversion process. The following retail conversion budget provides a good guideline of costs. The following example is based on a build-out for a typical 30,000- to 40,000-square-foot call center that would accommodate 300 to 400 workstations.
Call Center Construction Budget
Retail Conversion Example
| Construction Item | Cost Per Square Foot |
| --- | --- |
| Architect/Permits | $2.50 |
| Glass | $0.50 |
| HVAC | $2.50 |
| Ductwork | $2.00 |
| Sprinklers | $1.00 |
| Lighting | $3.00 |
| Electrical | $5.50 |
| Ceiling Work | $1.00 |
| Walls, Tape & Paint | $5.00 |
| Cabinetry | $1.00 |
| Carpet Install | $4.00 |
| VCT/Cermanic Flooring | $0.60 |
| Plumbing | $1.50 |
| Restroom Upgrades | $2.50 |
| Security Cameras | $1.00 |
| Card Access System | $1.00 |
| Data Cabling | $4.00 |
| Furniture | $10.00 |
| Generator | $5.00 |
| UPS | $3.00 |
| Estimated Total | $56.60 |
Capital sources to fund the construction costs
The above budget scares away many call center users. There are three primary sources of capital to fund the build-out of the facilities. These sources are often blended together to help fund the construction costs. These capital sources include:
Landlord – The most common source of capital is the landlord. They benefit from your occupancy and will ultimately remain in possession of building improvements when your lease expires. A typical tenant improvement allowance is $5 per square foot per lease year so call center users need to be prepared to sign a 10-year lease if they want the landlord to fund the improvements. The funding will be subject to the landlord's careful assessment of your financials.
Economic Incentives – An often overlooked source is the local economic development organization that can potentially provide economic incentives such as cash grants, infrastructure grants, tax abatements and employee training subsidies. You may be eligible for these type of incentives, which are generally subject to job creation, wages and the taxable property value. It is important to remember that many of these incentives will be subject to clawbacks if you don't fulfill your commitment.
Self-Funded – Many companies choose to pay for their improvements themselves. This will help keep your rental rate low and allow you to write off the investment differently. Keep in mind that the landlord is the one who gets a windfall at the end of your lease since they will receive back a fully improved building at your expense.
Conclusions
The demand for call center and back office facilities doesn't appear to be slowing down in the United States. Vacated retail sites have proven to be great options if companies are able to find the capital to build them out. Therefore, it is critical to use a proven call center site selection process to ensure you are locating in the optimal labor market and deploying your capital in a strategic location.