Biggest Job-Creating Industries of the Future: Healthcare, Retail, Call Centers, Software and Logistics
by King White, on Sep 21, 2016 1:46:10 PM
With the unemployment rate in the U.S. dropping to 4.9% in August, finding qualified workers in high demand occupations has become extremely difficult for companies seeking to staff their existing operations or make site selection decisions for new facilities. The U.S. Bureau of Labor Statistics has projected there will be nearly 10 million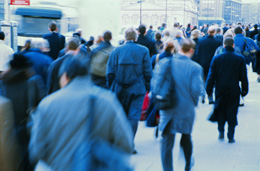 jobs created between 2014 and 2024 which only compounds the risk that employers take when deciding where to set up their next call center, distribution center, manufacturing plant, retail store or software development facility.

To help identify industries at greatest risk of labor shortages, Site Selection Group evaluated the forecasted occupational job demand and found that the healthcare, retail, call center, software development and logistics sectors will likely have the greatest risk for long-term labor challenges.

"There is intense labor pressure on high-growth industries right now as the U.S. has reached near full employment. As a result, it is critical to carefully analyze future occupational growth trends utilizing the latest labor analytics to help companies optimize their site selection strategies," explains King White, CEO of Site Selection Group.

Labor market supply and demand forecasting analytics can predict future labor shortages
To help combat labor shortages, advanced labor analytic tools have been developed to help predict future labor availability. The key of these models is to determine the point in time when labor market demand exceeds supply. By identifying this future date, employers and economic development organizations can strategically work together to better align the future needs of local employers with a community's workforce development and economic development strategies.

For example, Site Selection Group developed a labor assessment tool called LaborCast that projects labor market supply and demand over the next 20 years. This model incorporates projected labor needs in specific occupation clusters to help evaluate labor market longevity.

Utilizing tools like these can enable companies to right-size their facility to a labor market's full potential and help economic development organizations prepare their workforce for these high-demand occupations by proactively targeting those industries to locate in their communities.

Healthcare, retail, call center, software development and logistic occupations projected to grow significantly
Based on cumulative job creation between 2014 to 2024, Site Selection Group identified five industries that will potentially have labor shortages in the future if strategic workforce development initiatives are not implemented to meet demand. These industries include a range of skillsets including highly skilled workers such as nurses and software developers to lower skills in retail stores, distribution centers and call centers.

The following list identifies 30 occupations with the highest projected job creation.

Top 30 Job Creating Occupations by 2024
# of Jobs (in thousands)

Occupation
2014
2024
New Jobs Created

Personal care aides

1,768.40

2,226.50

458.1

Registered nurses

2,751.00

3,190.30

439.3

Home health aides

913.5

1,261.90

348.4

Food preparation and serving workers

3,159.70

3,503.20

343.5

Retail salespersons

4,624.90

4,939.10

314.2

Nursing assistants

1,492.10

1,754.10

262

Customer service representatives

2,581.80

2,834.80

252.9

Cooks

1,109.70

1,268.70

158.9

General and operations managers

2,124.10

2,275.20

151.1

Construction laborers

1,159.10

1,306.50

147.4

Accountants and auditors

1,332.70

1,475.10

142.4

Medical assistants

591.3

730.2

138.9

Janitors and cleaners

2,360.60

2,496.90

136.3

Software developers

718.4

853.7

135.3

Laborers and material movers

2,441.30

2,566.40

125.1

Supervisors of office/administrative workers

1,466.10

1,587.30

121.2

Computer systems analysts

567.8

686.3

118.6

Licensed practical and licensed vocational nurses

719.9

837.2

117.3

Maids and housekeeping cleaners

1,457.70

1,569.40

111.7

Medical secretaries

527.6

635.8

108.2

Management analysts

758

861.4

103.4

Heavy and tractor-trailer truck drivers

1,797.70

1,896.40

98.8

Receptionists and information clerks

1,028.60

1,126.30

97.8

Office clerks

3,062.50

3,158.20

95.8

Sales representatives

1,453.10

1,546.50

93.4

Stock clerks and order fillers

1,878.10

1,971.10

92.9

Market research analysts and marketing specialists

495.5

587.8

92.3

Supervisors of food preparation and serving workers

890.1

978.6

88.5

Electricians

628.8

714.7

85.9

Maintenance and repair workers

1,374.70

1,458.10

83.5
Conclusions
The utilization of advanced labor analytical tools has become critical to the companies creating jobs and the communities providing an ample supply of labor. The Bureau of Labor Statistics' occupational job growth projections are one way to illustrate how important it is to look at future labor conditions especially when evaluating site selection strategies for high growth occupations housed inside of operations such as call centers, distribution centers, manufacturing plants, retail stores or software development facilities.