Assessing the Availability of Tractor-Trailer Drivers
by Josh Bays, on May 24, 2017 10:13:19 AM
An increase in domestic industrial and consumer activity since the Great Recession has had a profound impact on the nation's workforce. Although the availability of a qualified workforce has been a top criterion whensiting new facilities such as distribution centers and manufacturing plants, it is now more critical than ever given the shortage of key skillsets. Site Selection Group, a full-service location advisory, economic incentives and real estate services firm, helps distribution centers find the optimal locations for their projects by evaluating workforce, logistics efficiencies, business environment, infrastructure, facilities and economic incentives. One of the critical skill sets that companies can often overlook when evaluating a candidate community's workforce is the availability of heavy tractor-trailer truck drivers.
Tractor-trailer truck driver is a growing occupation group
The post-recession recovery coupled with the increase in e-commerce activity increased the number of truck drivers in the U.S. to nearly 2 million as shown in the chart below. Based on economic forecasts, Site Selection Group's client projections, and local community project updates, this upward trend is likely to continue at a macro level. It is becoming increasingly difficult for the supply of such workers to keep up with the demand for the skillset.
Heavy and Tractor Trailer Truck Drivers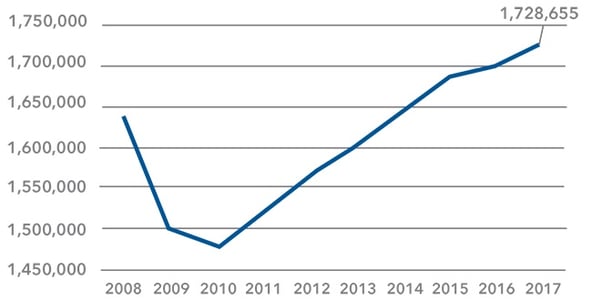 Assessing labor supply
The starting point for labor availability discussions is the total supply of key occupation types in a community. Below is a table showing which metro areas have the largest number of tractor-trailer drivers in the United States. The list is geographically diverse and typically follows the labor force. However, there are several markets such as Dallas-Fort Worth, Indianapolis and Nashville that not only have a high absolute number of tractor-trailer drivers, they also have a high concentration relative to the labor force.
Top Metro Areas by Total Number of Tractor Trailer Drivers
Metro Area

Total Tractor
Trailer Drivers
Labor
Force
Drivers as
% of LF

New York-Newark-Jersey City, NY-NJ-PA

58,873

10,610,411

0.55%

Chicago-Naperville-Elgin, IL-IN-WI

50,642

5,091,165

0.99%

Dallas-Fort Worth-Arlington, TX

50,456

3,850,496

1.31%

Houston-The Woodlands-Sugar Land, TX

39,292

3,515,448

1.12%

Los Angeles-Long Beach-Anaheim, CA

38,464

7,008,900

0.55%

Atlanta-Sandy Springs-Roswell, GA

30,936

3,044,951

1.02%

Riverside-San Bernardino-Ontario, CA

28,348

2,092,856

1.35%

Philadelphia-Camden-Wilmington, PA-NJ-DE-MD

22,296

3,196,170

0.70%

Detroit-Warren-Dearborn, MI

20,331

2,156,333

0.94%

Minneapolis-St. Paul-Bloomington, MN-WI

18,171

2,029,206

0.90%

Miami-Fort Lauderdale-West Palm Beach, FL

18,072

3,161,161

0.57%

Phoenix-Mesa-Scottsdale, AZ

18,063

2,273,199

0.79%

Indianapolis-Carmel-Anderson, IN

17,474

1,057,315

1.65%

Boston-Cambridge-Newton, MA-NH

16,704

2,735,900

0.61%

Charlotte-Concord-Gastonia, NC-SC

16,499

1,315,025

1.25%

Nashville-Davidson--Murfreesboro--Franklin, TN

16,459

1,000,132

1.65%

Seattle-Tacoma-Bellevue, WA

15,966

2,055,910

0.78%

St. Louis, MO-IL

14,508

1,478,574

0.98%

Denver-Aurora-Lakewood, CO

14,271

1,617,485

0.88%

Washington-Arlington-Alexandria, DC-VA-MD-WV

13,879

3,505,227

0.40%

Demand metrics provide a more complete view of labor availability
Comparing job posting activity data for a specific occupation with the total number of jobs in that occupation adds another dimension to labor availability; specifically, this calculation helps define demand. For example, an ideal community should offer both a higher-than-average supply of drivers and a lower-than-average demand for employers' key occupation types. In other words, employers want to be in communities with enough people to hire without having to compete too intensely to hire them. The table below demonstrates a sample demand analysis for tractor-trailer drivers.
Metro Areas by High Demand for Tractor Trailer Drivers
MSA Name

Demand:
Postings as
% of Jobs
Average
Monthly
Job Postings
# of
Jobs
5-Year
Occupation Growth

Dover, DE

343.69%

1,870

544

50.94%

Champaign-Urbana, IL

311.19%

2,330

749

-2.37%

Peoria, IL

271.92%

3,959

1,456

-34.88%

Weirton-Steubenville, WV-OH

256.34%

1,486

580

5.11%

Elizabethtown-Fort Knox, KY

242.78%

1,292

532

13.21%

Whitewater-Elkhorn, WI

238.08%

1,212

509

11.29%

Danville, IL

234.79%

1,582

674

13.78%

Florence-Muscle Shoals, AL

229.46%

1,283

559

8.24%

Atlantic City-Hammonton, NJ

228.41%

1,580

692

7.63%

Bloomington, IL

227.35%

2,076

913

-12.70%

Using the same calculations, Site Selection Group has also identified the metro areas with the lowest demand for tractor-trailer drivers (shown in the table below). Again, using this demand metric alone doesn't provide enough detail to minimize labor availability risk. It does, however, add another key indicator to the overall workforce discussion.
Top Metro Areas by Low Demand for Tractor Trailer Drivers
Metro Area

Demand: Postings
as % of Jobs
Average
Monthly Postings
# of
Jobs
5-Year
Occupation Growth

Midland, TX

6.12%

262

4,272

-2.70%

Laredo, TX

12.58%

562

4,471

2.20%

Lincoln, NE

14.43%

846

5,864

-0.30%

El Paso, TX

15.02%

846

5,632

0.00%

Jacksonville, FL

16.03%

1,493

9,316

-2.60%

Amarillo, TX

16.22%

382

2,355

-1.10%

Fargo, ND-MN

16.97%

529

3,118

1.20%

Odessa, TX

18.65%

430

2,306

-0.20%

Idaho Falls, ID

19.03%

336

1,767

3.50%

Corpus Christi, TX

19.74%

631

3,197

-3.00%