A Look at the Effects of Automation and Same-Day Service on the Distribution Industry
by Josh Bays, on Jul 25, 2017 2:22:19 PM
Since the recession, several distribution industry trends have emerged, but two factors have fundamentally changed the way companies warehouse and distribute goods:
the pressure companies face to deliver same-day service
the increased investment in automation
Site Selection Group, a full-service location advisory, economic incentives and real estate services firm, which provides comprehensive services to warehousing clients as they seek to expand, consolidate or relocate their distribution center footprints, takes a look at how these trends are affecting the industry.
Warehouse construction and employment trends
The first factor, the pressure companies face to deliver same-day service, has been a key contributor to the explosive growth of distribution related activities. The graph below shows square footage under construction nationally over the last several years.
Warehouse Square Footage Under Construction in the United States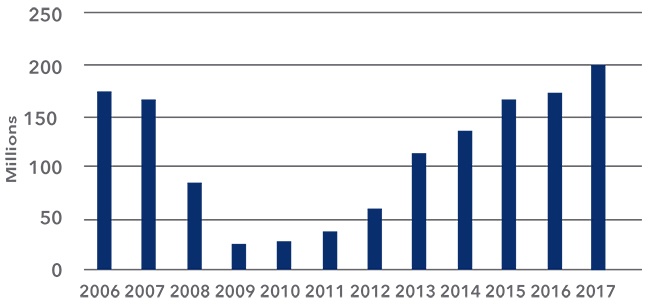 The second factor that has significantly impacted warehousing and distribution activities, the increased investment in automation, has many worried that jobs will significantly diminish over time in favor of automated equipment. While that is conceivable, the latest occupation and warehouse inventory does not support that — just yet.
Site Selection Group analyzed the relationship between occupation presence and existing real estate product to understand how the number of jobs per 1,000 square feet of warehouse space has changed over time. The graph below indicates that since the recession, the average number of workers per 1,000 SF of warehouse space has actually increased each year, although it remains below pre-recession levels.
Jobs per 1,000 SF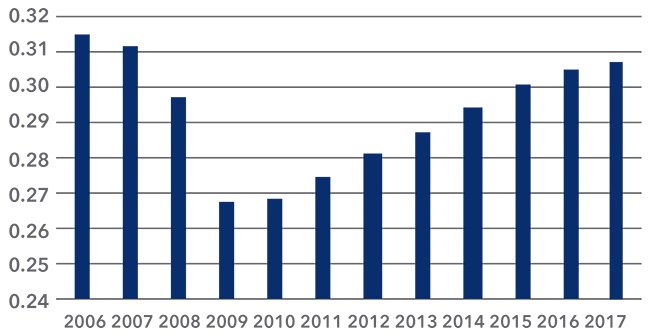 Relationship between warehouse jobs and warehouse inventory
There are 0.31 warehouse jobs, on average, per 1,000 square feet of existing warehouse space nationally. As warehouse construction shows no signs of slowing down and national employment remains strong, Site Selection Group analyzed the relationship between occupation growth and the change in total warehouse square footage over time to identify any macro trends. The chart below shows these variables over the last 10 years.
Percent Change of Warehouse Inventory and Job Growth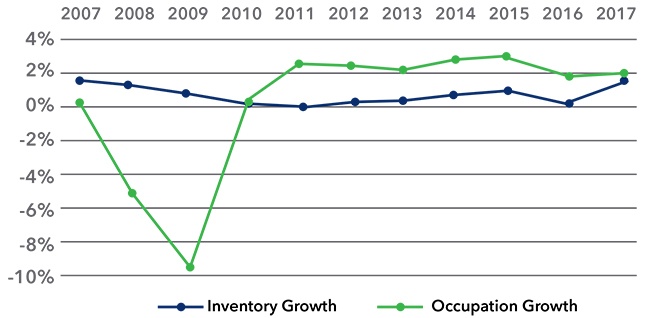 This is the first time since 2010 that construction growth has caught up to occupation growth. Although there are many interpretations that can be drawn from this data, it appears that we are reaching an inflection point where the number of jobs per square foot of warehouse space might start dropping.
Interestingly, the most active warehouse construction markets in the country have a ratio of jobs per square foot of existing warehouse space significantly lower than the national average. This suggests investment in automation is taking place in larger markets as companies attempt to serve the consumer base more quickly. The table below shows recent statistics for the most active construction markets.
Top 10 Markets by Warehouse Square Footage Under Construction
Metro Area

SF Under Construction

Total Inventory
SF (RBA)

# of Jobs

Jobs Per 1,000 SF
of Total Inventory

Dallas-Fort Worth-Arlington, TX

20,948,688

731,318,582

112,618

0.15

Chicago-Naperville-Elgin, IL-IN-WI

17,014,436

1,124,197,083

183,579

0.16

Atlanta-Sandy Springs-Roswell, GA

16,464,472

628,542,172

103,605

0.16

Philadelphia-Camden-Wilmington, PA-NJ-DE-MD

14,868,715

1,002,204,385

75,576

0.08

New York-Newark-Jersey City, NY-NJ-PA

12,492,878

752,308,910

212,027

0.28

Los Angeles-Long Beach-Anaheim, CA

6,826,646

929,306,297

194,860

0.21

Charleston-North Charleston, SC

6,772,694

65,634,848

8,073

0.12

Kansas City, MO-KS

6,689,396

304,057,341

29,047

0.10

Baltimore-Columbia-Towson, MD

6,547,548

191,347,146

31,190

0.16

Las Vegas-Henderson-Paradise, NV

6,129,170

102,556,132

21,935

0.21
Sources: EMSI and CoStar; Occupation Cluster Includes First-Line Supervisors of Helpers, Laborers, and Material Movers, Hand; Industrial Truck and Tractor Operators; Laborers and Freight, Stock, and Material Movers, Hand; Machine Feeders and Offbearers; Packers and Packagers, Hand
Impact on distribution site selection decisions
Site Selection Group believes it is critically important for a company to examine this relationship when assessing the competitive presence affecting the workforce in a given market. A market with high construction activity does not always indicate that pressures on the workforce are linear. In fact, this relationship can vary greatly from one market to the next, necessitating an analysis of each market independent of the other.